So as you can tell I've been a little dry in the coming up with posts department and haven't posted anything in I think about a week. So to post something up until I can do something more in tuned with my blog I shall talk about a game concept I have. As planning to work in the video game industry I actually have a bunch of ideas for video games. This one has to do with the forces of Heaven and Hell fighting each other. Even though the story is based off of the concepts of Christianity; Heaven, Hell, God, and the main characters of each side, it's not supposed to be the same Christian, Islamic, or Jewish god, or a retelling of those religions, so if you are heavily religious I'm not trying to anything, good or bad, about any religion.
So this would be the pregame story:
The Seven Archangels
In the beginning god created Heaven and the seven archangels; Micheal, Gabriel, Raphael, Suriel, Zadakiel, Sarathiel, Aniel. The archangels were perfect, immortal, and lived only to serve and praise their creator. In return for their loyalty lived a perfectly happy life in heaven free of suffering and had Heaven provide for all their needs and wants. However over mellenia god grew bored of the predictable love offered by the archangels.
So God preceded to make Terra, an imperfect finite land where its flawed inhabitants, the humans, would have to struggle just for their personal survival. God revealed to the humans that they may enjoy the endless bounties of Heaven, but only if they served Him and followed His rules. The humans, however, were given free will and were not forced to follow the rules of God. The humans had to choose between to suffer temporarily following His rules, and then live in paradise forever, or choose to take advantage of mortal sins and be denied the in front of the Gates of Heaven.
For those humans who fell under the influence of sins, God made a third world, Hell, where every selfish human would suffer for eternity. To rule and manage these lands God took what was left of the clay he made from the seven archangels and created the seven archdemons; Lucifer, Mammon, Asmodeus, Satan, Baal, Leviathan, and Belphegor. Being the opposite of the archangels, the Archdemons where unpredictable selfish and had an unending loathing for their creator, whom forced them to suffer for their eternal lives. They punished the immoral humans, just as God planned, as the archdemons wanted to hurt God's favored creation.
A painting of Heaven, Earth, and Hell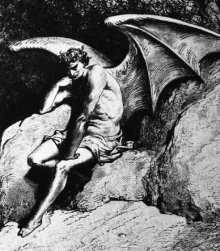 Lucifer, that clever devil
After thousands of years the cleverest Archdemon, Lucifer, found a way out of Hell into Terra which meant a path to Heaven. Wanting to invade and live blissfully in paradise the Archdemons, indirectly spread their influence around Terra, causing Humans to sin, spreading plagues and starting wars, sending many Humans to Hell. The Archdemons corrupted the Human souls turning them into demonic warriors. When the time was right the demon army led by the seven Archdemons charged out of the Gates of Hell into Terra. Soon the Archangels made an angelic army out of the pious humans who stayed loyal to God to combat the forces of Hell and prevent them from entering paradise.
And as this pleasantly unexpected turn of events occurred god patiently watched.
As for the story of the game itself I haven't thought about it too much. I might have a full linear story that has a definite ending, or have it like End War where both sides fight an open ended ended story where it plays a cinematic saying what happens depending which side wins, or be like Sins of a Solar Empire where there is just a intro story and game play only through skirmishes. I plan to have the genre be an RTS like Rome Total War or like Age of Empires, where the two armies are completely different where generally angels have fewer stronger creatures and the demons have more weaker creatures and could sacrifice them. Players will play as a sub-faction when they choose each Archangel or Archdemon to be there general. The generals will be a Unique unit semi-immortal (where you can temporarily kill it) with crazy abilities. The Generals would also unlock units and abilities unique to that general. Each Archdemon has one of the seven deadly sins associated with it and each Archangel has one of the seven holy virtues, which would affect what abilities and units each general would have. I've always liked RTS's that had factions that had similar armies but subtle unique skills or units which affect game play allot, such as in Age of Empires III.
Another game play aspect that I think could be cool is using humans as a resource to make units. As the two sides fight for control over territory over lands in Terra, they will try to convert the humans there to add them into their respective armies. I just think it would be cool to use morally gray humans as a resource. I'm not sure how exactly it would work but as I work the game play ideas in I'll figure out how they'll fit in later.
The lamb on the right side of God Opening the Seven Seals
I'm not sure how I'll do this either but I want to fit in the scroll of that's sealed with the seven seals of the Apocalypse. As each sealed is broken after the prophecies occur the seven signs of the apocalypse happen on Earth. The first four are the four horsemen of the Apocalypse; War, Conquest (Wikipedia says it's not pestilence apparently), Famine and Death, the fifth is "reveals the cries of those who had been slain because of the 'Word of God'"(Wikipedia) the sixth seal releases natural disasters all over the world and the seventh releases fires and the trumpets of the angels. These seven seals would probably seven super weapons that can be reached by both sides.
So as I stress this is not Earth, there is no Jesus, Moses, Abraham or Muhammad, and this God is not supposed to be the God billions of people believe in and is not to have any messages about peoples beliefs. I just think that it would be an awesome story that could possibly make a cool game. I'm not sure if putting my untrademarked intellectual property up on the internet where anyone can say that they came up with this idea before I did. Well I trust you guys with my ideas and I can use this as proof that I had this idea at least by June 22nd 2011 A.D. Also I want to get you guys's opinions and see what you think, what I can add, or what I can change. Since I do have about five or so game ideas I might put more of these up on another slow posting week.
Also, to prevent me running out of Ideas, I ask you followers and you Annon to ask me any questions you've had about Science, history, and philosophies. I'll be glad to answer any questions I know and am willing to spend time to look up some stuff if you ask a question I've never thought about or just plain don't know. Right now I am looking up some stuff about this New Age religion thing, I'm not sure about its name, that believes that Atlantis was real and was an advanced civilization that ruled a continent in the Atlantic Ocean thousands of years before sumerian towns came about, believe that Aliens gave this civilization and other people information and ideas, and believe in higher and lower dimensions that exists on different frequencies (frequency of what, i don't know, also supposedly the wavelength of our universe is 7.23 centimeters, it's proven, trust me). Yeah it's a little hard to swallow and I straight up don't buy any of it but I still give it my time and tell you guys my exact opinion on it and show you what I looked up.